Finding the right carpet cleaning company in Oakville & Burlington can be very challenging.
This is because the carpet cleaning industry has unethical carpet cleaners who employ bait-and-switch tactics or high-pressure sales tactics. Most of these carpet cleaning companies often don't do good work or refuse to honour their advertised prices. If you call around, the price is generally from one extreme to the other, and companies will tell you the method they use is the best.
Here are some tips for you, the consumer, to help prevent you from being the victim of unscrupulous carpet cleaners. 
It's important to investigate all prospective companies before making a hiring decision. Talk with your friends and family, and check online reviews on sites like HomeStars. Once you've settled on a few companies in your area, ask how long they have been in business.
Ask for references or pictures of work they have completed so you can find out if previous customers were satisfied with the carpet cleaner's work. The carpet cleaner you choose should be knowledgeable and should be able to answer simple questions regarding the work they are about to perform or have performed already.
If a deal sounds too good to be true, then it probably is. Legitimate businesses have expenses: vehicle insurance, liability insurance, business licenses, taxes, employee wages, equipment maintenance, chemicals, WSIB coverage, gas and, of course, quality equipment expenditures. While price is a factor in choosing a carpet cleaner never should it be the paramount factor. Instead, quality of work should be the primary concern of consumers.
Like other businesses, quality work comes at a cost. Carpet cleaners could never clean your carpet for $10.95 a room and do a quality job. Clear terms of what is to be expected and what will be included in any work performed should be clearly expressed to the consumer prior to the commencement of any work. Failure to do so creates headaches and may lead to unfulfilled consumer expectations.
I hope the above-mentioned tips help you decide what carpet cleaning company to choose when you have your carpets cleaned by a professional.
For additional information and reviews in the Oakville & Burlington areas, click on the Homestar logo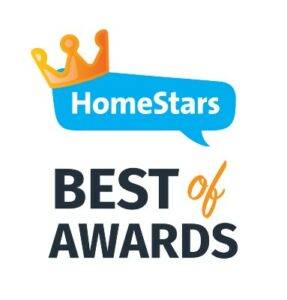 Book Your FREE Estimate